Our Guest Suite: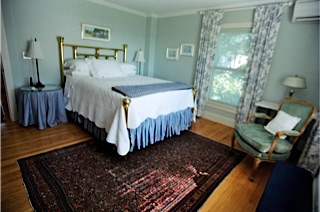 Our guest suite consists of two bedrooms, one with a queen-size bed and water view, the other with two twin beds and a garden view. The bath is large and comfortable with a spa shower and generous counter space. The bedrooms share the bath so the suite will only be rented to one couple, families or close friends.
Enjoy your homemade breakfast on our farmer's porch, lavender terrace or in the stonewall garden. In the cooler seasons breakfast is served in our dining room, complete with fireplace and water view. Come home to a relaxing afternoon tea after a day of sightseeing – our hammock and lawn chairs await you.
Our breakfast menu will include as many local, seasonal, quality ingredients as possible. Sweet breads, tarts, granola (home made of course), yogurts and fruit are always included. The main dish can be eggs gratin, quiche, egg puff, pancakes or waffles with a fruit topping. Of course, coffee, tea and juices accompany. Gluten free foods can also be provided.